Yr 6 Transition Letter
Dear Parent/Guardian,
Following the Education Ministers announcement on Thursday the 9th of July, it gives me the utmost pleasure to inform you of our plans to welcome your child to Ysgol Y Strade in September 2020.
 As we were unable to continue with our usual transition plans during the Summer term, welcoming our new Year 7 intake will be one of our main priorities in September. We have decided to allocate a number of days at the start of the year for Year 7 pupils to become accustomed to the school.
 These are the important dates to remember:
Tuesday the 1st of September 2020 – staff only.
Wednesday the 2nd of September 2020 – staff only.
Thursday the 3rd of September 2020 – Year 7 and 12 pupils only.
Friday the 4th of September 2020 – Year 7 and 12 pupils only.
 Some of our Year 12 students will be chosen as mentors for Year 7 classes and will work closely with them throughout the school year.
 For more information regarding school uniform, equipment etc please click on the link below.
 We kindly ask you to complete the following form so that we can contact you over the summer if the need arises. All in information will be stored securely and held in the strictest confidence.
 We will be sharing further information on our website and social media platforms over the next few weeks. In the meantime, if you have any queries or questions before the end of this term, please contact Miss Catrin Hughes, Head of Year 7 or Mrs Heulwen Jones, Assistant Headteacher.
Yn gywir
Mr Geoff Evans
Headteacher.
Welcome
Thank you fo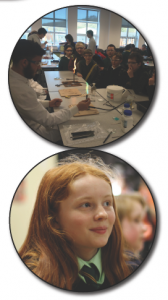 r showing an interest in Ysgol Y Strade. It gives us great pleasure to present you with this handbook.  This handbook is not a prospectus but rather an introduction to life in year 7. The prospectus has been issued by Carmarthenshire County Council and a downloadable version is available on the school website.  You have shown support for Welsh-medium education since your child's early years and are therefore accustomed to the warm, welcoming ethos of the Welsh school. Ysgol Y Strade provides a safe, stimulating and caring environment where each individual is given the support and encouragement to grow and develop both socially and intellectually.  This handbook is the first step in forging a genuine partnership between home and school. Together, we can ensure that your child receives the best possible education at Ysgol Y Strade, which will provide them with a first class start in life.
Transition Events
A great deal of preparation is undertaken beforehand to ensure that a smooth transition occurs from the Primary to the Secondary phase.
It is the school's policy to establish a variety of links with feeder schools in order that the transition is successful.  It is important that we get to know Yr. 6 pupils well before they arrive at Y Strade, so that they settle in as quickly as possible.
It is envisaged that pupils will spend periods of time at Y Strade during Years 5 and 6, working on a variety of activities with friends and peers, old and new.  There will be an induction timetable set over the year preceding their entry, which will include the following:
Month
Event
October
Open Evening – opportunity for future parents and pupils to see the school 'at work'

Strade staff and pupils visit primary schools to give information about life at the school.

November
Various workshops for Year 6 at Y Strade.
February
Science and Maths Fair for Year 5
March
Strade staff to visit primary schools to collect information on every Year 6 pupil.

Various activities for Year 6 at Y Strade

May
'Gwyl Hwyl' for Year 5 at Parc y Scarlets

A night of entertainment 'Twrw'r Teulu' in Strade

June
Strade receives more information from primary schools – core levels, attendance, effort and behaviour etc.
July
An evening for new pupils and parents – pupils will be placed in their form groups and meet the tutor and Yr 10 Mentor.

Transition day

CATs testing day.
The Language of the School
Welsh is the official language of the school and it is the language used in all extracurricular activities in addition to the classroom and all aspects of school life.
Pupils are expected to speak Welsh in the school at all times.
All subjects, except for English, are taught through the medium of Welsh in Years 7 and 8 with an option to follow Maths and Science through the medium of English in Year 9.
Our aim is to develop the pupils' confidence and use of the language in their day to day lives.  We try to ensure that the pupils are bilingual when they leave school and that they have an awareness of their cultural heritage and are proud to be Welsh.
We provide many opportunities to enrich the pupils' use of the Welsh language as a means of communication.  Pupils are encouraged to appreciate the relevance of the language to the life of the school and today's society.
We ask for parental support in ensuring that children look upon themselves as truly Welsh.  In this way, they can raise the awareness of the relevance and value of the Welsh language being taught to their children and strengthen their commitment to the language.
We ask parents or guardians to sign the Agreement between Parents and School which is printed within the Llyfr Cyswllt (Contact Book):
Our school is a Welsh school providing bilingual education. There is a happy community spirit within the school and we encourage the pupils to be proud of their school, their community and their country.  The pupils are expected to speak Welsh during the school day.
It is vital that pupils and parents understand this policy.  We hope that you will consider and commit to supporting the school's language policy.
Transport to School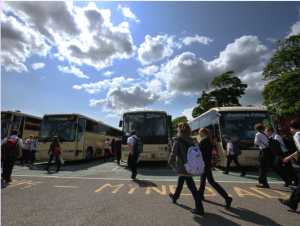 Transport is provided by the LEA for every catchment area pupil living
over three miles away from school.  Should a problem arise in respect of the organisation of transport, parents are asked to contact the School Transport Office in Carmarthen on 01267 234567.
Buses will leave the school's bus bay at 3.20 pm and will be supervised by senior members of school staff.
We welcome pupils who are able to cycle to school.  We have on site facilities to ensure the safety and security of equipment.
Mealtimes at Y Strade
Carmarthenshire County Council's School Meal Service is responsible for providing meals for pupils in the school's canteen.  Food provided meets the requirement of the Welsh Government's initiative on healthy eating – Appetite for Life.
Meals are varied, nutritionally balanced and reasonably priced.  For menu details and a price list see the school website.
Breakfast is served from 8 o'clock until 8.30, snacks at break time from 11 o'clock until 11.15 and meals at lunch time from 1.15 until 2.00.
A Cashless Catering System operates which processes pupils' biometric data – digital fingerprint measurements.  Before inputting your child's biometric data you will be asked to sign a consent form. The system allows you to receive information on your child's food choices at any time, should you so wish.
A form is available on the school website for those who wish to claim for free school meals.
Happiness and friendships
Education is about the development of the whole person.  At Ysgol Y Strade, we pride ourselves on our pastoral care syste, which provides opportunities for all pupils to develop and maintain self-confidence in order to achieve the highest possible standards.  On arriving at the school, pupils will be encouraged to speak with individuals from other schools in order to develop new friendships along with existing ones.
Usually pupils remain in their original registration forms throughout Years 7-11.  The Form Tutor will endeavour to get to know each individual in the class well, and will be prepared to listen and advise on matters to do with school work or of a personal nature.  Every effort is made to safeguard the welfare and happiness of the individual.  The work of the Form Tutor is reinforced by the Heads of Standards who are responsible for particular years.
Parents are requested to inform the relevant Head of Standard if they feel that the school should be aware of any problem which is likely to affect the academic, personal or social development of the child.  We can assure parents that any information received will be treated confidentially and professionally and be used only for the child's benefit.
There is no place for bullying in the ethos of the school and we endeavour to ensure that the school is a happy and safe place for everyone.  Every effort is made to prevent bullying from taking place, but if it does, it is taken very seriously.  The school has a clear anti-bullying policy and we do our best to create an environment where pupils are prepared to discuss their feelings, and are confident enough to inform a teacher if they themselves are being bullied or if they are aware of another pupil being bullied.
Strade is one big family where everyone cares for us
The school helped me make many new friends when I started
I was worried about moving to Strade, but there was no need as the teachers were very kind and helped me a lot